About Us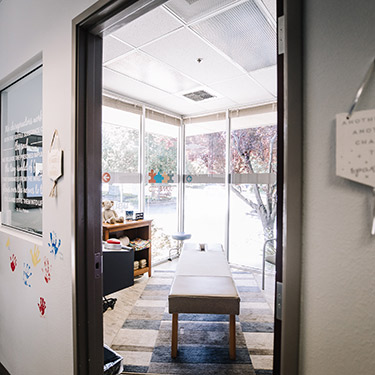 I want everyone to experience wellness chiropractic to help their body be their best! – Dr. Michelle Arietta
As Dr. Michelle Arietta grew up in Auburn, just up the hill from Rocklin, she is delighted to work in this beautiful community. She loves living in Placer County and having easy access to big cities and beautiful mountain escapes. "With lakes, rivers and plenty of outdoor activities, which my husband and I love, Rocklin is the perfect place to be." She also loves how family focused the Rocklin / Roseville area is.
A Long History With Chiropractic
Before becoming a chiropractor, Dr. Michelle worked as a chiropractic assistant and has been working in chiropractic since 1994. In 2017, she relocated to Rocklin and decided to establish Connected Chiropractic. She is excited to help families thrive in Rocklin, Roseville and Lincoln, CA.
The Story Behind Our Practice's Name
First and foremost our name reflects the importance of being connected to who you were made to be.
The second portion of it is that a connection of how your body is wired. When you consider the nervous system, you may not realize that, because your knee hurts, it might be something connected somewhere else. It's the nervous system and all the connections that it makes that help you to be healthy and whole. But the nervous system must be properly functioning without interference.
Then we look at connection in the sense of our hands-on care. "We live in a society where we're trying to get more connections. However, we're disconnecting further because of increased technology usage which only isolates us." said Dr. Michelle.
Going beyond that is making sure that your family is connected. Making sure your family is a well connected unit helps everyone to thrive. We want people to have healthy, happy homes and families. That ultimately flows in a ripple effect through our communities.
A Practice That Attracts Different Thinkers
You don't have to live in the status quo. You are not too old or too young. You are not too far gone. You are not too inactive or overactive. You are pure potential. You have the greatest healing power created within you from the very start. You have made it through every tough journey of your past and you are still here.You are not defined by your injury. You are not defined by your trauma. You are not defined by a label. You are not your diagnosis.You were made for more. It's time to heal. It's time to restore the light and joy and passion from within you. It's time to be connected. Trust your gut. Trust your intuition.Trust Innate Intelligence. Trust that your best days are ahead of you. Trust the process. Your family needs you to be your best. Your child deserves the best conditions to thrive.Your child is pure perfection. The world is waiting for you to step in to your potential. We need you to be your best. Your life is waiting.
Take the first step and call us. Together lets begin the journey to connecting you to your potential. Let Chiropractic Care connect you to your best self. We are delighted to partner with you.
MEET DR. MICHELLE ARIETTA »
A Client Success Story
Here are some words of encouragement from one of our pregnant moms.
"If you are looking for magical hands DR. Michelle is the BEST. I am beyond happy that I decided to try the Webster technique with her! My baby was in a transverse position almost throughout my whole pregnancy, as a first time mom I was freaking out! After doing extensive research, I decided to call and make an appointment with Dr. Michelle. My first adjustment was on a Tuesday and the second one on Thursday the same week, Friday night I felt my baby moving a lot. 3 days later I had an ultrasound and my baby was already in the correct position (head down position), I was soooooo relieved to know that I would not have to go through a c-section, thanks to the amazing work of Dr. Michelle! Not only did she help me with the position of my baby, but with constipation as well! Immediately after the first adjustment I started to experience bowel movement, since then I have not suffered from constipation. I highly recommend Dr. Michelle to all the mommies going through the same problem I went through!" –Aimee H.
Contact our chiropractic office today to schedule an appointment with Dr. Michelle!

About Connected Chiropractic | (916) 624-4553